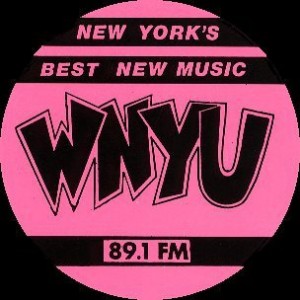 Coren Helene-Gitomer, voditelj oddaje "Cinemusic" na radiu univerze NYU v New Yorku, WNYU, je v nedeljo 3.3. 2013 v svoji dvourni oddaji zavrtel tudi komad Kombinata Pesem upora in zbor z naklonjenimi besedami predstavil. Tole pa je napisal o naših pesmih:
Kombinat's music is transporting. It takes you to underground cellars, where oppressed citizens gather to imagine a better future. To rivers and valleys, where you're reminded of a beautiful country that deserves your respect. It takes you to a time when solidarity didn't seem so foreign and fragmented as it does today. At once both optimistic and mournful, wistful and fierce, Kombinat's songs rekindle a spirit of rebellion, compelling 21st century listeners to ask, "What do I stand for?"
WNYU je radijska postaja newyorške univerze, program katere v celoti ustvarjajo študentje; nekakšen newyorški Radio Študent torej. Oddajajo na internetu 24 ur na dan, 7 dni v tednu. Kakor si lahko preberete v njihovem manifestu, se trudijo nuditi alternative komercialnim radijskim postajam. Z direktnim sodelovanjem in interakcijo, naslavljajo potrebe in zahteve študentov in prebivalcev kampusa. Izobražujejo in zabavajo skupnost s posebej izbranim glasbenim programom, novicami in študentskimi oddajami domače produkcije za NYU, ampak tudi z ozirom na dogajanje izven njenih meja.